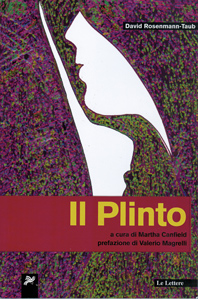 Il Plinto
Traduzione, note e postfazione di Stefano Tedeschi
Prefazione de Valerio Magrelli
A cura di Martha Canfield
Edizione Le Lettere, 2017, Firenze Italia
ISBN: 978 88 6087 983 7
(The poems and the translation correspond to the edition of El Zócalo published by LOM Ediciones, Santiago, 2013).
The Chilean poet David Rosenmann-Taub, born in Santiago de Chile in 1927 and presently residing in the United States, is the author of a vast body of work, greeted by the critics from the very beginning as a revelation. His first book, published in 1949, is here presented to Italian readers with the new title chosen by the author: El Zócalo, in Italian Il Plinto. Already in this book, as in the rest of his output, he offers a poetic language that embodies an innovative linguistic approach and profound philosophical reflection.
The trail blazed by him is bearing fruit, both in the very rich criticism it has generated and in the attraction it exerts on young writers. His poetry, though quite elaborate, fascinates readers, young ones in particular, probably because while on the one hand it expresses existential angst, on the other it is at once a vital elegy and a song to brotherhood, beyond racial or religious divisions.
Mario Vargas Llosa, the Nobel Laureate in Literature for 2010, has said that David Rosenmann-Taub's work is one of the foundations of contemporary poetry; and the poet Armando Uribe, recipient of Chile's Premio Nacional de Literatura in 2004, considers him "the most important and profound living poet in the Spanish language."
Martha L. Canfield (Montevideo, 1949), poet, essayist, and translator, is Professor of Spanish-American Literature at the University of Florence and President of the Jorge Eielson Study Center for the dissemination of Latin American culture. For her vast critical and educational body of work she was in 2015 awarded the Ramón López Velarde Latin American Prize in Mexico.