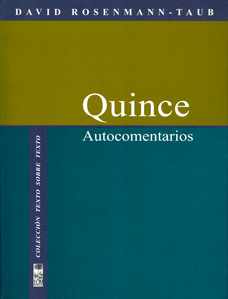 Quince
(Fifteen)
Book: 256 pages
Audio CD: 1
Publisher: LOM ediciones, (April, 2008)
Language: Spanish
ISBN: 978-956-282-974-8

In Quince, David Rosenmann-Taub undertakes the analysis of fifteen of his own poems. This major author has often been referred to as hermetic. Here he opens doors for us to some of the many levels of his poetry. The commentaries show that nothing has been left to chance: every word, every silence, every phoneme, every rhythmical figure, is at the service of the meaning. For this reason, the scores of the poems are fundamental.
A CD of the poems read by David Rosenmann-Taub is also included.
"The beauty of a text lies in the precision of its truth. Since we exist in what does not exist – time – it would have satisfied me, as a lad of fifteen and thousands of questions, to come upon the answers that I offer in this book. An answer, if it is exact, generates new and more exact questions: our path becomes complicated, but with serene desperation: solidly."
Quince forces us to rethink the structure of reality.