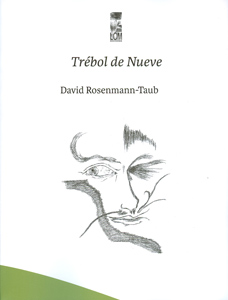 Trébol de Nueve (Nine-leaf Clover)
Book: 160 pages
Publisher: LOM Ediciones (2016)
Language: Spanish
ISBN: 978-956-00-0645-5

"Knowledge" opens the book, and "Consciousness" closes it:
access, constantly deeper, into the rooms of the human house.
*
* *
Being, from knowledge to consciousness, in nine blazes.
---
«Sabiduría» abre el libro, y «Conciencia» lo cierra: acceso,
cada vez más profundo, a las habitaciones de la casa humana.
*
* *
El ser, de sabiduría a conciencia, en nueve fulgores.
About the illustration on the cover of the book